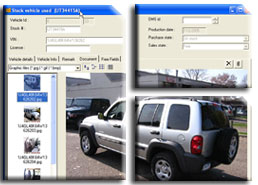 Our Mission
Development is a creative process. The product, conceptual art, is brought to life with every new user, but the true essence lies in the software. There, it is possible to translate old problems into new solutions. There we formulate our ideas and shape them into usable software solutions.

Specialised in the Automotive Industry
Audev develops software aimed to satisfy a complex branch of the market, the automotive industry. To ensure this, Audev uses developers have their roots in both automation and the automotive sector.

Long-term Business
Information technology today is extremely dynamic, as is the automotive industry. Audev's new software, CarIT, is based on this principle and therefore contains the flexibility to bend with the needs of the market. In addition, long-lasting relationships with the users of CarIT products, established by leasing and not selling the software, must ensure that CarIT suits the needs of every dealership, for every dealer size, for every brand, in every language.